Life of Transgender in Ethical Milieu: A Study of Selected Transgenders of Bhubaneswar, India
Abstract
Societal life of a transgender is not very normal and smooth; rather, it has been full of controversies in acceptance, treatment, and trust. Taking birth as a transgender is never a matter of choice. Due to obliviousness, society still thinks that being transgender is a substance of choice. In fact, conflicts related to ethical milieu hinder a free and normal living for a transgender. Keeping ethical milieu in the backdrop, this paper describes the life of selected transgenders starting from coming out of the closet to adapting to the unpredictable societal reaction. For the purpose, in-depth interviews among selected transgenders from Bhubaneswar are conducted for ascertaining their feelings as they came out from the closet and presence of ethics while dealing with personal and professional sides of their living. It has been found that they have never been sailed in a straight line; instead, they have been destined to an oscillating life path.
Downloads
Download data is not yet available.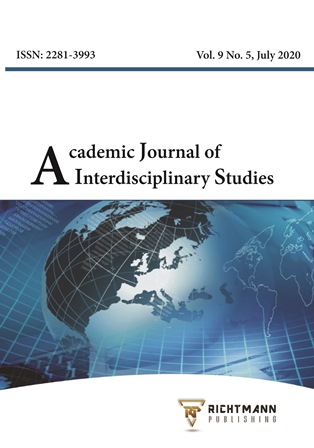 Downloads
How to Cite
Priyadarshini, S. ., & Swain, S. C. . (2020). Life of Transgender in Ethical Milieu: A Study of Selected Transgenders of Bhubaneswar, India. Academic Journal of Interdisciplinary Studies, 9(4), 125. https://doi.org/10.36941/ajis-2020-0067
Section
Research Articles
License
This work is licensed under a Creative Commons Attribution-NonCommercial 4.0 International License.