Risks of Social Communications of Public Administrative Bodies with Regard to Manifestations of Corruption
Abstract
The article has analyzed reasons and the current state of corruption risks in the system of social communications of public administrative bodies. The aim of the study is to identify and analyze corruption risks in the system of public communication to eliminate the causes and terms of their emerging. The article is of an overview nature, and it is prepared based on the approach of the content analysis of scientific literature on the topic, analytical reports of international organizations, international projects, the authors' analysis of sites and information portals of public authorities, and vectors of public information policy. A significant potential of corruption to destroy the trust in public institutions has been emphasized. This process will tend to weaken the state's ability to fight against corruption. By using the methodological approach "agent – patron" (agent's dilemma), it has been proved that a substantial increase in corruption processes causes considerable changes in the institutional design of public organizations. It is transforming the nature of the entire public administration system in the direction far from the public interest. This state of affairs demands the scientific community to develop theoretical and practical works offering a modern approach to the problem of countering corruption and, in particular, its institutional forms and mechanisms. The dynamics of corruption connections and relations distort the institutional design in the system of public administration, destroying effective social communications, decreasing a general level of citizens' trust in power structures, contributing to the concentration of financial and economic assets in a very limited part of the society. The developed e-government has a great potential for countering corruption threats in general, provided the high level of information and communication competency of public authorities, and the developed information competency of citizens. Generalization of the work will be useful for public authorities during implementation processes of the comprehensive system of activities directed at prevention and fighting against corruption and planning while anti-corruption reform implementation, delivery of legal, social, economic, organizational, managerial, and practical activities aiming at corruption prevention through improvement and the further development of social communication in the public sector.
Downloads
Download data is not yet available.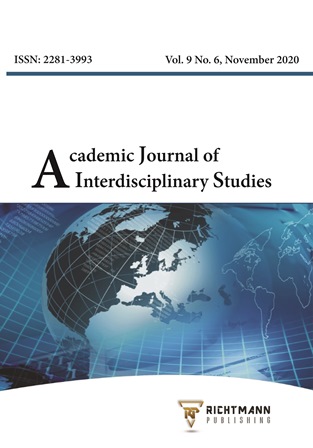 Downloads
How to Cite
Balashov, A. N. ., Lyseiuk, A. M. ., Bashta, I. I. ., Shtelmashenko, A. D. ., & Mykoliuk, A. V. . (2020). Risks of Social Communications of Public Administrative Bodies with Regard to Manifestations of Corruption. Academic Journal of Interdisciplinary Studies, 9(6), 239. https://doi.org/10.36941/ajis-2020-0128
Section
Research Articles
License
This work is licensed under a Creative Commons Attribution-NonCommercial 4.0 International License.