Psychological Aspects of Corruption in Public Administration: Case-Study of Ukraine
Abstract
The purpose of this research was to explore the psychological aspects of corruption in public administration through a combination of methods such as the non-systematic review, a semi-structured interview, a survey questionnaire, and observations of the anti-corruption court hearings. The study employed a case research design using the exploratory research strategy. It relied on a combination of data collection methods. The study was designed as a flow of three basic stages such as identification of psychological factors of corruption, validation of factors, and assessment of relative importance of every factor using the Triangular Assessment Method. It provided first-hand evidence and cases for the course in "Psychological, Behavioural and Economic Triggers of Corruption." The IBM SPSS Statistics 25.0.0.1. Software was used to process the yielded data. The study found that civil servants' ambitions to get rich quick, their low self-esteem, psychological dependencies, community-accepted image, sense of impunity were the major psychological aspects pushing the people to corruption in Ukraine. It was also found that the sense of impunity could be considered to be the primary psychological impact factor stimulating corruption actions by the civil servants, specifically. The self-esteem could be regarded as a second important psychological factor of corruption in public administration, which is related to the persons' vision of their role in the community. The third important factor was ambitions driven by 'easy money' and status. The last two factors such as psychological dependencies, the community-accepted image were judged to be the least important ones. Further in-depth research is needed to identify the gender difference in the psychological aspects of corruption in public administration.
Downloads
Download data is not yet available.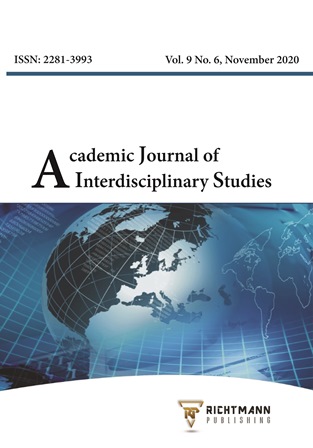 Downloads
How to Cite
Dragan, O. V. ., Yermakova, G. S. ., Chvaliuk, A. M. ., Kurchin, O. G. ., & Karagodin, O. V. . (2020). Psychological Aspects of Corruption in Public Administration: Case-Study of Ukraine. Academic Journal of Interdisciplinary Studies, 9(6), 264. https://doi.org/10.36941/ajis-2020-0130
Section
Research Articles
License
This work is licensed under a Creative Commons Attribution-NonCommercial 4.0 International License.