Knowlegde Sharing Attitude: An Exploratory Study among University Students
Salih Yeşil

Kahramanmaraş Sütçü İmam Üniversitesi, Turkey

Mihriban Hatunoğlu

Kahramanmaraş Sütçü İmam Üniversitesi, Turkey
Keywords:
Knowledge Sharing, University Students, Turkey
Abstract
Currently, society pay a great deal of attention to be successful, the secret of increase success is to share, for this reason, many system of education and educators put emphasis on the importance of knowledge sharing among students. However little is known about the determinants of the knowledge sharing behavior. In our study we tried to find out some of those determinants that positively or negatively effect on these behaviors. The objective of this study is to contribute to the limited previous researches on knowledge sharing among university students and further develop an understanding of relevant subject, by portraying the attitudes and intentions towards knowledge sharing among university students in Turkey. A questionnaire-based survey was used to collect the data. Respondents were received from 266 undergraduates in Kahramanmaraş Sütçü İmam University (KSU). Respondents had a positive attitudes and intentions towards knowledge sharing. We confirm that internet as a source for study-related tool significantly contributed to preferred resource for knowledge sharing and obtained as the most preferred form of sharing knowledge is interestingly telephone. We also observed that among factors limiting of knowledge sharing, lack of depth in relationships is essential factor for limiting sharing and some supplementary findings. As expected, this paper demonstrates that students do have an eagered knowledge sharing culture, finally, that culture is collectivist in nature and to some extent self-serving and instrumental.
Downloads
Download data is not yet available.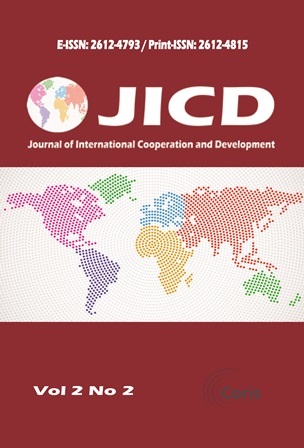 How to Cite
Yeşil, S., & Hatunoğlu, M. (2019). Knowlegde Sharing Attitude: An Exploratory Study among University Students. Journal of International Cooperation and Development, 2(2), 36. https://doi.org/10.36941/jicd-2019-0011