Didactic Nuances in Emeka Nwabueze's Presentation of Characters' Social Worldviews on Concealment/Deception in Spokesman for the Oracle and Rainstorm in the Desert
Abstract
This study examines the application language and speech for the purpose of deception as a means of achieving concealment of information as portrayed in two plays of a Nigerian playwright Emeka Nwabueze. Thus, this study attempts to discuss some typologies of deception and concealment of information as a means of understanding better, the reasons and circumstances that inform the description of concealment of information as good, bad, devious, ugly, legal or illegal. This attempt will help us to interpret why and when concealment of information as well as deception are essential in achieving survival, progress, redress, defence, discovery, illumination, satisfaction or vendetta directly or indirectly. Though concealment of information can occur through inaction and nonverbal mediums, we are focusing on deception through language and speech, and how worldview aids in locale specific definition and perception of forms of deception and concealment of information. The discussion in this study revolves around interpretive analysis approaches as means of accessing applicability of some theories of concealment and deception in describing behaviours in these categories as universal common with shades of interpretive community perspectives. Lastly, the didactic relevance of Nwabueze's projection of presumed propelling forces and the consequences of concealment of information in the plays understudy, subsumes the understanding of deception as a universal common with trajectories of interpretive community suppositions.
Downloads
Download data is not yet available.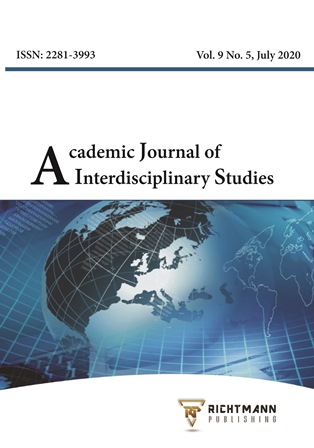 Downloads
How to Cite
Aniago, E. ., Nwaozuzu, . U.-C. ., & Maduka, C. . (2020). Didactic Nuances in Emeka Nwabueze's Presentation of Characters' Social Worldviews on Concealment/Deception in Spokesman for the Oracle and Rainstorm in the Desert. Academic Journal of Interdisciplinary Studies, 9(4), 258. https://doi.org/10.36941/ajis-2020-0080
Section
Research Articles
License
This work is licensed under a Creative Commons Attribution-NonCommercial 4.0 International License.