Publish your research papers in our journals. Find out the journals that could be best suited for publishing your research. Browse ours and partners Indexed Journals.
Richtmann Publishing publishes 7 academic Journals. In 2019 Richtmann purchased the Academic Journal of Interdisciplinary Studies, Journal of Educational and Social Research and Mediterranean Journal of Social Sciences. From 2017 to September 2019 the above journals have been published by Sciendo-Degruyter and previously from Mcser. Below you can find the list of all journals:
Contemporary Studies in Social Sciences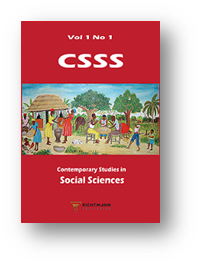 Contemporary Studies is Social Sciences (CSSS) is published twice a year in March and September. The journal Contemporary Studies in Social Sciences publishes innovative research encompassed within the social sciences that include, but are not restricted to, economics, psychology, political science, anthropology, cultural studies, law, history, geography and sociology. Contributions are welcome in any suitable form, including critical essays, reviews of significant topics, case studies, theoretical and empirical articles, and statistical analysis. For submission please send your manuscript to This email address is being protected from spambots. You need JavaScript enabled to view it. 
---

British Journal of Economics and Finance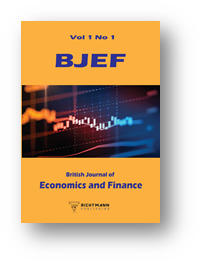 The Journal publishes high quality research papers in all fields of economics. The journal maintains a sound balance between economic theory and application at both the micro and the macro levels. Articles on economic issues between individual nations, emerging and evolving trading blocs are particularly welcomed. Research in real estate, insurance, monetary theory and policy, and industrial organization is also welcomed. Contributors are encouraged to spell out the practical implications of their work for economists in government and industry.
Readable, accessible contributions cut through the complex field of economics to make a genuinely valuable contribution to the current understanding of the subject and the development of new ideas. A double-blind review process ensures the journal's academic integrity, relevant research and thinking. For submission please send your manuscript to This email address is being protected from spambots. You need JavaScript enabled to view it.
---

British Journal of Engineering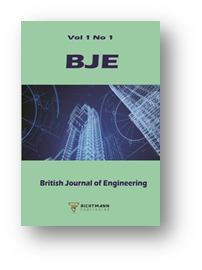 British Journal of Engineering is a peer-reviewed, Open Access journal that publishes original research articles as well as review articles in several areas of engineering. The subject areas covered by the journal are: Chemical Engineering, Civil Engineering, Computer Engineering, Electrical Engineering, Industrial Engineering, and Mechanical Engineering. While it encourages a broad spectrum of contribution in the engineering sciences, its core interest lies in issues concerning material modeling and response. Articles of interdisciplinary nature are particularly welcome. The primary goal of the journal is to maintain high quality of publications. There will be a commitment to expediting the time taken for the publication of the papers. The articles that are sent for reviews will have names of the authors deleted with a view towards enhancing the objectivity and fairness of the review process.
For submission please send your manuscript to This email address is being protected from spambots. You need JavaScript enabled to view it.
---

Mediterranean Journal of Social Sciences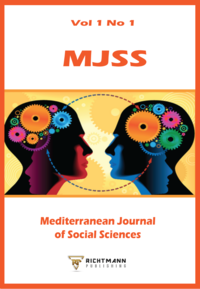 We need social sciences to analyse and critique what's going on and make choices that shape the future. Social science is not just important for the future but for what's happening now. Our vision is to promote debate, analysis, and critics among the social sciences intellectual scholars. Its particular focus is on understanding how social sciences are embedded in the new millennium, and how the social sciences may help the society to solve the new global problems. Such understanding requires a careful analysis of social context, and a fundamental role to do this is played from all actors and stakeholders: universities, research institutions, governments, media, civil society etc. The important point is that the relationships between social sciences and the dynamics that change our society today are in focus. The term "social sciences" includes relevant disciplines like economics, sociology, psychology, anthropology, communication studies, law, cultural studies, political studies, development studies and other related disciplines. The research data may come from experimental approaches, case studies, interviews, questionnaires, ethnographies, archives etc. Also articles of different kinds will be welcome: reports of empirical research, theoretically orientated analyses, literature reviews, etc. The journal expects that authors write clearly and accessibly for an international audience. No particular theories are favoured.
Authors can be registered for submission or submit papers directly by email at This email address is being protected from spambots. You need JavaScript enabled to view it.     Browse the journal 
---
Academic Journal of Interdisciplinary Studies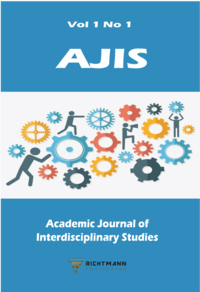 Academic Journal of Interdisciplinary Studies seeks a reassessment of all the human and social sciences. The need for interdisciplinary approaches as a key to reinvigorating and integrating both theory and practice is increasingly recognized in the academy. It is becoming increasingly clear that research is interdisciplinary. Interdisciplinary research provides more chances of making discoveries since consolidated knowledge can lead to novel insights. With research now becoming increasingly global and collaborative, interdisciplinary research is deemed to be the future of science and research. Our Journal is interested to promote interdisciplinary research in social sciences and humanities; to be an opportunity for academics, scholars and researchers with different backgrounds to share their research results, the practical challenges encountered and the solutions adopted. The scope of the journal is also to embrace a variety of scholarly fields including business and management, public administration, sociology, anthropology, economics, social work, history, law, education, psychology, political science etc. Acceptance for publication is subject to a double-blind peer-reviewing process. The journal expects that authors write clearly and accessibly for an international audience. No particular theories are favoured.
Authors can be registered for submission or submit papers directly by email at This email address is being protected from spambots. You need JavaScript enabled to view it.      Browse the journal
---
Journal of Educational and Social Research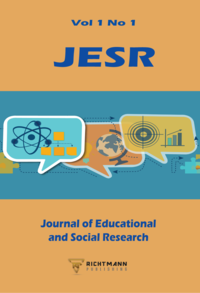 The Journal of Educational and social Research publishes research manuscripts in the field of education. Social research can improve our society's lives and education. The aims and scope of the journal are to: serve as a forum for researchers around the world to present and discuss common concerns in local, national, global, international and transnational issues in social studies education; provide a journal that reports research on topics that are of international significance across educational and social contexts; publish high quality manuscripts that are of international significance in terms of findings. JESR seeks to help make available new evidence-based theories and understandings as to the extent and nature of educational change in diverse settings. The Journal of Educational and social research t is concerned with education in its broadest sense, including formal and non-formal modes, from preschool to adult education. Its particular focus is on understanding how education and development are embedded in social and activities, and how individuals and collective practices are transformed through education. The journal is multidisciplinary and invites scholars from relevant disciplines including psychology, anthropology, linguistics, sociology, communication studies and all areas of educational research. The Journal of Educational and social research welcomes papers from all prospective authors and there will be no restrictions when it comes to age levels or social settings.
Authors can be registered for submission or submit papers directly by email at This email address is being protected from spambots. You need JavaScript enabled to view it.     Browse the journal
---
Journal of International Cooperation and Development
The Journal of International Cooperation and Development is focused on the principal sectors of the cooperation and sustainable development. We invite articles that are interdisciplinary or focused on particular disciplines (e.g. economics, politics, geography, sociology, health, international relations, law etc), with an expectation that all work is accessible to readers across the social sciences. All research articles in this journal undergo rigorous peer review, based on initial editor screening and anonymous peer review. The Journal does not represent any particular school, analytical technique or methodological approach, but aims to publish high quality contributions to ideas, frameworks, policy and practice, including in transitional countries and underdeveloped areas of the world.  If you are interested to submit in this journal use the online submission or send your paper to This email address is being protected from spambots. You need JavaScript enabled to view it.
 Authors can be registered for submission or submit papers directly by email at This email address is being protected from spambots. You need JavaScript enabled to view it.     Browse the journal